Surprising twist: Xiaomi and Disney to join forces
Chinese tech giant Xiaomi and Disney have decided to join their forces. Here are all the details.
Smartphone manufacturers frequently launch limited-edition models in collaboration with media and film companies and now we have a surprising and exciting collaboration. Xiaomi has reported it will collaborate with Disney to bring a co-marked CIVI cell phone, which will be enlivened by one of the broad communications organization's characters.
Xiaomi and Disney to join forces for a smartphone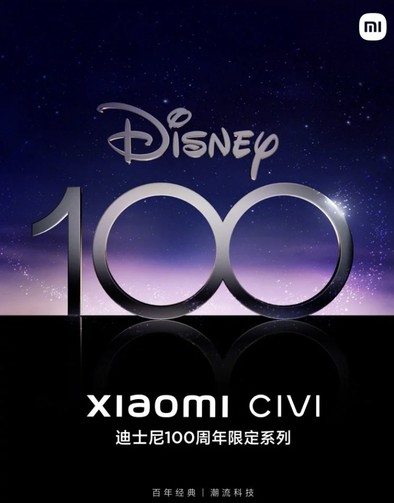 Xiaomi CIVI 3 may have been inspired by a Disney character. Today, Xiaomi made an official announcement announcing its partnership with Disney to launch the special edition of the Xiaomi Civi celebrating the 100th anniversary of Disney. However, the precise date of release has not yet been announced.
Device's design will probably be based on a Disney character, and it might even come with custom accessories and packaging. The chance of a custom UI can't be precluded by the same token.
Xiaomi CIVI 3 is said to have a Dimensity 8200 processor and a dual-camera front-facing setup with 32MP Samsung S5KGD2 sensors, according to rumors. On the back, it is supposed that the handset will use a Sony IMX800 as its primary camera. The presentation of the gadget is said to help a revive pace of 120Hz and will probably be upheld by an underlying 4500mAh battery with 67W quick charging support.