Motorola's next foldable phone revealed in live image, promising impressive design
A new image of the next-generation Motorola Razr smartphone, the Razr 2023, has been leaked online.
Foldable smartphones are becoming increasingly popular, as more and more manufacturers are introducing new models with advanced features and designs. Many of the major smartphone manufacturers have released foldable models, including Samsung, Huawei, Oppo and Motorola, with more companies expected to enter the foldable smartphone market in the coming years. The technology behind foldable smartphones is also continuing to improve, with better durability and foldable screens that can withstand more usage.
As CNBC reported, Lenovo has confirmed that they are developing the 2023 version of the Motorola Razr with significant upgrades. Leaked renders of the device have already been circulating online, and now an alleged live image of the upcoming Motorola Razr 2023 has emerged, providing a closer look at the device.
Motorola Razr 2023 live images leaked
An unreleased Motorola Razr smartphone has been leaked by 91mobiles, which has shared a hands-on picture of the device. The image matches those previously revealed by Evan Blass and The Tech Outlook last month. The smartphone is expected to be launched as the Razr 2023 or Razr (2023), as Motorola has also referred to the current model as "Razr 22" in its promotional materials.
The image shared below appears to be the first actual picture of the upcoming Razr 2023 model, as all previous images were press renders. It seems to be a prototype unit, not a retail model, as "NOT FOR SALE" is printed above its cover display. According to leaked press renders, the cover display of the Razr 2023 will extend around its camera lenses and a small LED flash. However, the large display will not cover the printed text.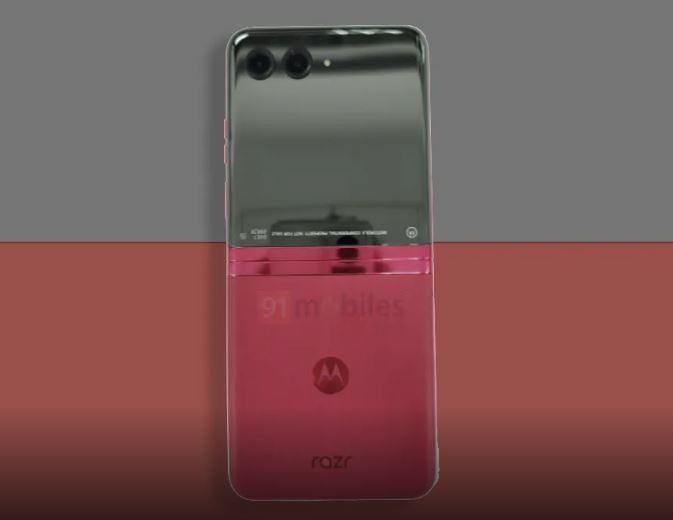 The latest leak of the Razr 2023 confirms that the device will come in at least two colors, which was only hinted at in previous teasers. The picture also shows a relatively thin hinge, but it is uncertain whether both sides will align when closed. The official launch of the Razr 2023 is expected to be on June 1, but the pricing and key specification details are not yet disclosed.