Apple Watch Ultra 2 launched, see what's new
Apple has officially unveiled the highly-anticipated Apple Watch Ultra 2, offering an impressive array of features and functionality, accompanied by pricing details that are set to captivate tech enthusiasts.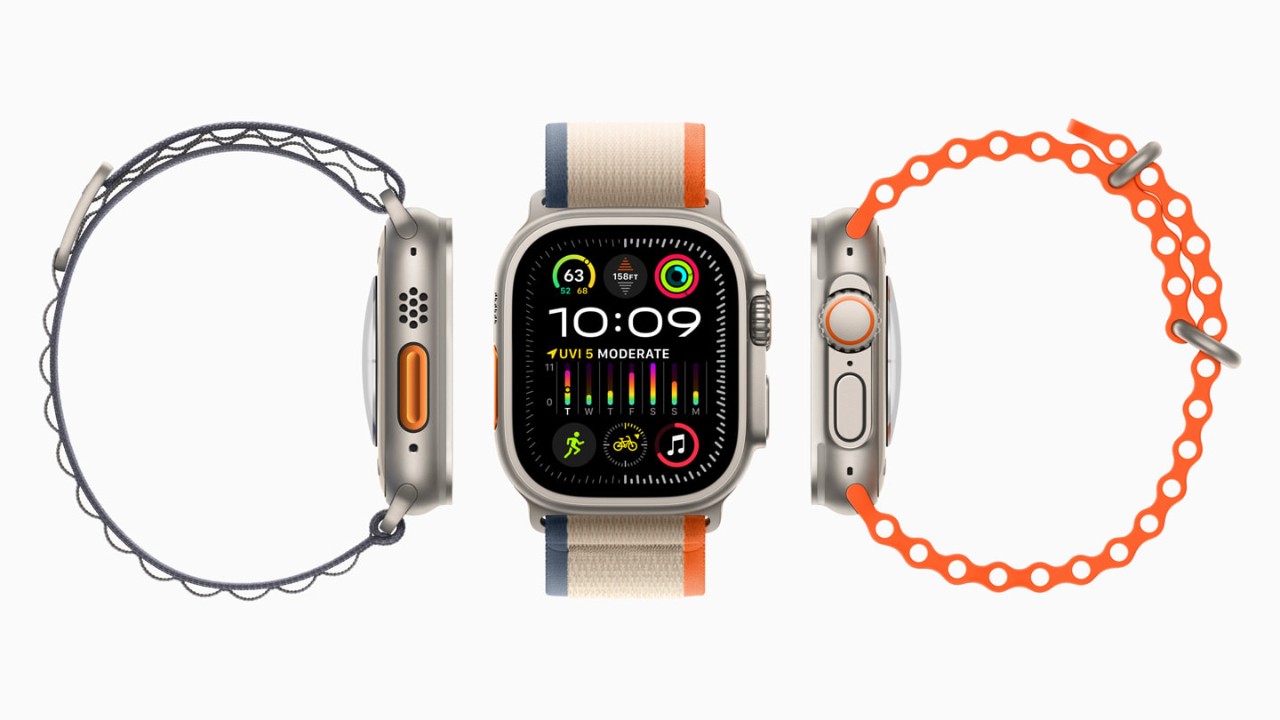 In a highly-anticipated unveiling at Apple's annual fall event, the tech giant introduced an array of cutting-edge products, including the new-generation iPhone 15 series, Watch Series 9, and the second-generation Watch Ultra. The latter, known as the Apple Watch Ultra 2, builds upon the success of its predecessor, positioning itself as the ultimate choice for adventure and outdoor enthusiasts. With a rugged design and a slew of exciting features, let's delve into what this remarkable wearable device has in store for us.
Apple Watch Ultra 2 launched, see what's new
Right from the get-go, the Apple Watch Ultra 2 showcases its robust build, resembling its predecessor. Crafted with an aerospace-grade titanium unibody, a substantial 49mm casing, and a raised shell to safeguard the display, durability is at the forefront. Notably, this smartwatch is MIL-STD 810H approved, meeting military and rugged equipment standards. It boasts a WR100 water-resistant rating and is EN 13319-certified for diving, allowing it to thrive in activities like kitesurfing, wakeboarding, and scuba diving down to 40 meters. What's more, the Apple Watch Ultra 2 introduces a double-tap gesture feature, enabling users to answer calls, manage timers, and perform various tasks with ease.
Retaining the hallmark rotating crown and action button on the right side, convenience remains paramount. The device features an Always-on Retina display with an impressive brightness of up to 3,000 nits, ensuring visibility even in harsh sunlight. To elevate call quality, the smartwatch incorporates three microphones and adaptive beamforming technology to reduce background noise effectively. Wind noise is further mitigated through machine learning, ensuring crystal-clear audio.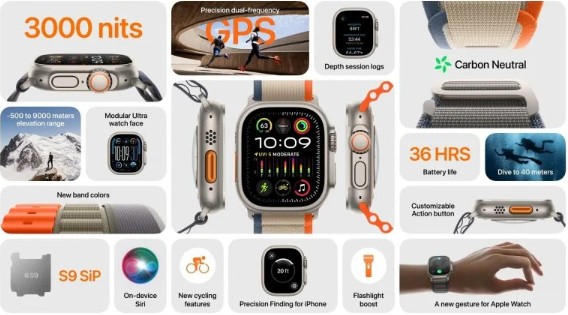 In terms of health and fitness, the Apple Watch Ultra 2 is a standout. It boasts a heart-rate monitor, an ECG sensor, and an SpO2 tracker, which have proven invaluable in detecting conditions like atrial fibrillation and potentially saving lives. For female users, a menstrual cycle tracker with thermometry for enhanced forecasting is included. Additionally, two sensors address body bias and external bias concerns, offering valuable data for family planning, including retroactive ovulation estimates.
For outdoor enthusiasts, the Apple Watch Ultra 2 features a multi-band dual-frequency GPS system, tailor-made for adventures. Professional swimmers and divers will appreciate the pro-running features and depth gauge. Safety is paramount, with an 86 dB Siren and emergency features to aid in locating the user if they become lost. The smartwatch also retains its crash detection functionality, automatically contacting emergency services when a severe car crash is detected and the user is unresponsive.
Under the hood, the Apple Watch Ultra 2 is powered by the new S9 processor, promising significant performance improvements. The inclusion of a second-generation ultrawide-band chip enhances Find My capabilities, location tracking precision, and power efficiency. Battery life is commendable, offering up to 36 hours under normal usage conditions and an impressive 72 hours with low power mode enabled. On the software front, it runs on watchOS10, introducing new widgets, redesigned app icons, and a Modular Ultra watchface that maximizes display utility.
With a price tag of $799 for the GPS + Cellular version, the Apple Watch Ultra 2 will be available for purchase starting September 22, promising an exciting new chapter in wearable technology.