Qualcomm unveils the Snapdragon 7 Gen 3 platform
Qualcomm, a leader in the mobile chipset realm, has launched its new chipset platform.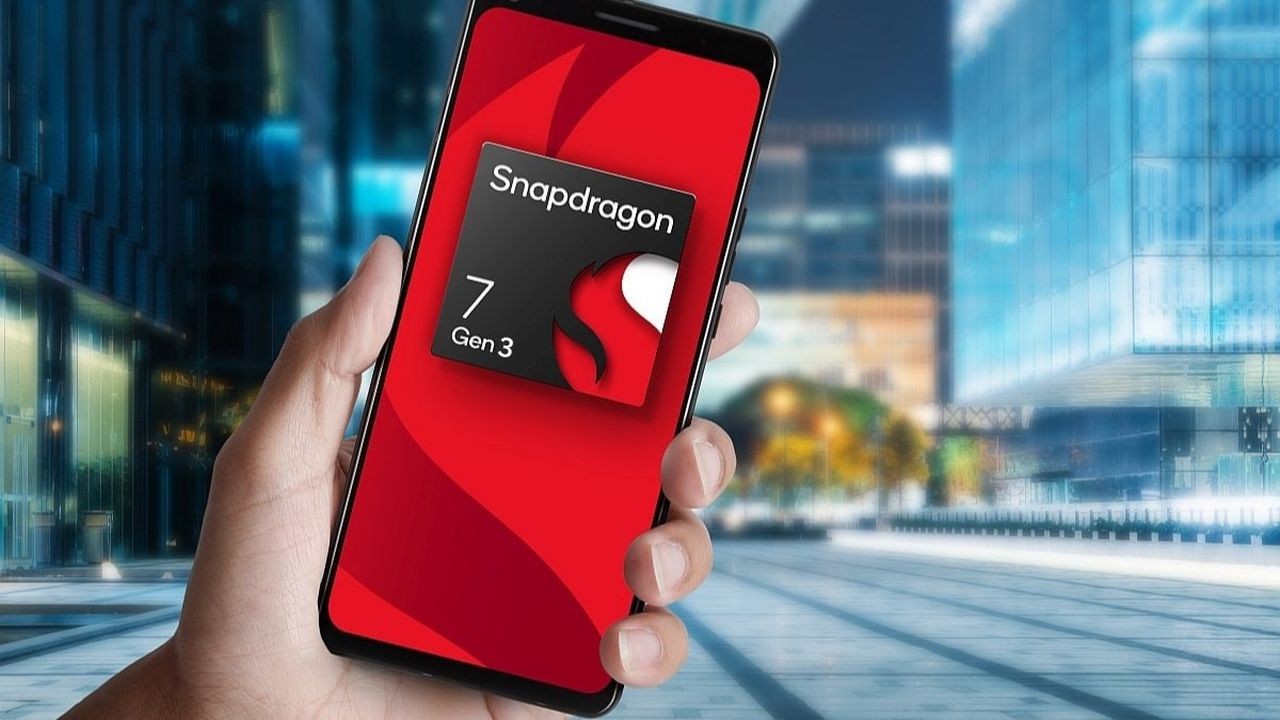 Following its recent significant announcement, Qualcomm has unveiled the Snapdragon 7 Gen 3 chipset, marking another major advancement in its product line. This latest SoC is a testament to Qualcomm's continuous innovation, bringing high-end features to mid-range smartphones.
Manufactured using TSMC's 4nm process technology, the Snapdragon 7 Gen 3 boasts an impressive 1+3+4 CPU architecture. Its primary core clocks in at up to 2.63 GHz, supplemented by three performance cores at 2.4 GHz and four efficiency cores operating at 1.8 GHz. This architecture ensures a balance between power and efficiency, making it suitable for a variety of smartphone applications.
Qualcomm's latest chipset stands out for its significant performance improvements. It offers a nearly 15% increase in CPU performance and an over 50% jump in GPU performance compared to its predecessor, the Snapdragon 7 Gen 1. Furthermore, it achieves a 20% improvement in power efficiency, reflecting Qualcomm's commitment to developing powerful yet energy-efficient technologies.
In terms of Artificial Intelligence (AI), the Snapdragon 7 Gen 3 chipset excels with its Hexagon NPU, delivering a 60% improvement in AI performance per watt. This includes the introduction of INT4 precision support in the 7-series, enhancing the AI capabilities significantly.
Qualcomm unveils the Snapdragon 7 Gen 3 platform
The chipset also introduces several new features, catering to the ever-evolving needs of smartphone users. It supports the Google Ultra HDR image format on Android 14, offers improved AI-based face detection, and brings spatial audio with head tracking to the table. Additionally, the Snapdragon 7 Gen 3 facilitates multi-device Snapdragon Seamless experiences, broadening the scope of interconnected device usage.
Camera technology is also a focus, with support for capturing images from three cameras simultaneously and the introduction of the "AI Remosaic" feature. This feature, showcased by Samsung in collaboration with Snapdragon 8 Gen 3's AI, enhances photo quality by eliminating grainy discoloration and producing more vivid colors.
The connectivity capabilities of the Snapdragon 7 Gen 3 are equally impressive. It includes the Snapdragon X63 5G modem, supporting download speeds of up to 5 Gbps, and offers WiFi 6E and Bluetooth 5.3 support.
Smartphone manufacturers like Honor and Vivo are already planning to incorporate the Snapdragon 7 Gen 3 in their upcoming devices. Honor is expected to launch the Honor 100 featuring this chipset, while Vivo's V30 series smartphones are also likely to be powered by the Snapdragon 7 Gen 3.